Saturday Dec 27 Wong Chuk Hang Game 11v11 2:45pm (CAP:10)
---
---
Wong Chuk Hang Rd, Hongkong
A few extra players needed for a Kick about with FWD's Sunday game in Wong Chuk Hang(Aberdeen). It is a 11-aside artificial grass(3g) pitch. All footwear is suited.
– We will play 11-aside.
– Fee is HKD 60
– The player cap is 10.
– Jim(mob. no. 67149699) is the organizer of this game.
Wong Chuk Hang Recreation ground
The pitch is not accessible by MTR. It is located in Aberdeen, about 15 minutes drive from Central. The pitch 11 a-side Artificial grass(3g), all footwear is suitable.
The address is:
108 Wong Chuk Hang Road, Aberdeen
The pitch is located across the street from this address, there is a pedestrian bridge from the main entrance.
Transportation
Busses
From Central: Bus route no. 70, 90
From Causeway Bay: Bus route no. 38, 38A, 72, 72A, 92, 96
From Kowloon: Bus route no. 107, 170
Kowloon bus website
City bus website
Taxi
Easiest way to get to the pitch is by taxi. Print this out and show it to the cab driver.
Entrances(see map below)
-(A)One entrance is next to Ocean Park road
-(B)Second entrance is on Wong Chuk Hang Road(bus stops are here)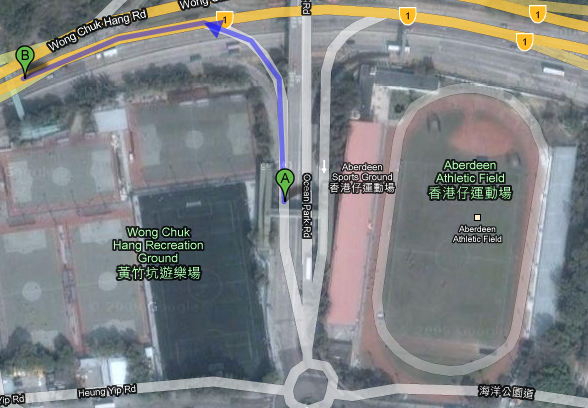 Please sign up for the waiting list if you did not sign up in time to make the cap.
– You have to leave your mobile phone number on your sign up in order for our organizers to contact you when there is a dropout. No number in the post= no waiting list
– On game day. When you drop out you have to SMS/text the organizer on the above mentioned number. No text = no drop out, which will result in paying the game fee +penalty. drop out on the website is not accepted.
Before you sign up for this game, please read this
Sign up below.