Monday Dec 2, 7:45pm: Sai Ying Pun 6v6 to 10v10(Cap: 22) – GAME ON -
---
---
Sun Yat Sen Memorial Park, Sai Ying Pun
- Surface: Art. Grass, All footwear is suited.
- CHANGES IN SIGN UP PROCEDURE: READ ME
- Player cap is 22.
– The fee is HKD60.
– Organizer Wayne
– On-pitch organizer TBD
– OUT OF THE CAP? You have to leave your mobile phone number on your sign up in order for our organizers to contact you when there is a dropout. No number in the post= no waiting list
– Please remember to bring 2 shirts: one white and one non-white
Signing in
1. Click the "I'm attending"-button
2. Check your rank by clicking the "see who RSVPed"-button
– If it is within player Cap, you are 100% in for the game.
– If your rank is not within player Cap, recheck again on game day
3. If on game day, your rank is still outside of the cap, input your phone number here in the comments section
For plus-ones, contact the organizer by sms/whatsapp
Signing out
1. Sign out at least one day before the game(midnight): No consequences
2. Sign out on game day by text message/call: pays fee if we can't find replacement. Payable next game you play
3. Sign out on game day on website: pays fee and penalty(game fee).
Payable next game you play
4. No show: HKD 200. Banned from all games allowed, until i have received their the 200 by bank transfer. fee goes to organizers at the end of every quarter. Waived if you have official proof of emergency
Before you sign up for this game, please read this
The pitch is located between Sheung Wan and Sai Ying Pun.
1. Take the MTR to Sheung Wan station.
2. Exit at Exit D and turn right.
3. Go straight on and stay Connaught Rd till you see the park, the entrance of the pitch is next to the fire station.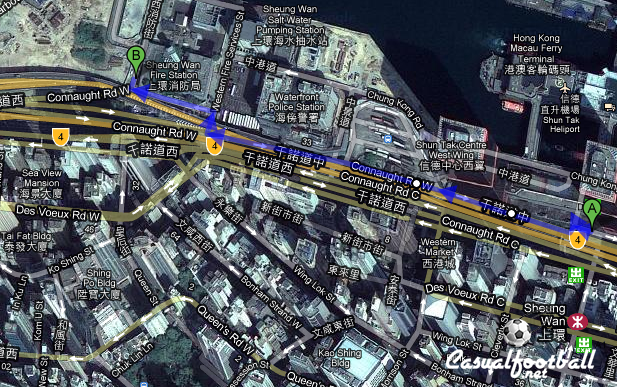 For location details go here: Locations>Sai Ying Pun or the map below.