MOTM Nov/Dec 2010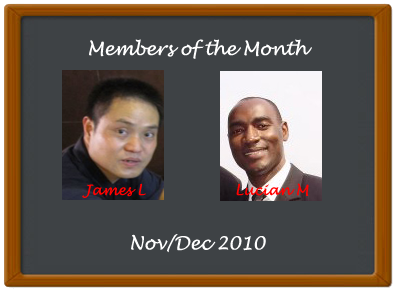 As we will not have any games in the last 2 weeks of December and the first few weeks of January. The new Members of the Month are for November and December.
The new MOTM are:
– James Lu
– Lucian Mashobe
It seems like yesterday, but in reality both players joined us more than 2 years ago.
I remember Lucian and his wife watching us play in Tung Chung one time on the stands and all of a sudden during the next game, he was on the pitch playing with us and never left. When in Hong Kong he plays all the Tung Chung games and has introduced several of his friends to play with us as well, MikeC and JMC. As our only South-african player, he is representing his country in CFN and he has done a great job to date.
I don't quite remember when James played for the first time. I remember I first met him during a HamsapFC league game in Kowloon Tsai Park. He was walking alongside Mongkok-John. They shared a cab from Tung Chung to Kowloon Tsai. This was back in the 3rd quarter of 2008. For the past two years he has been a dependable player and a solid defender for both Hamsap as CFN.
As MOTM November/December, they will get priority sign up and play our weekend games (Saturday and Sunday) for free.