MOTM Oct 2010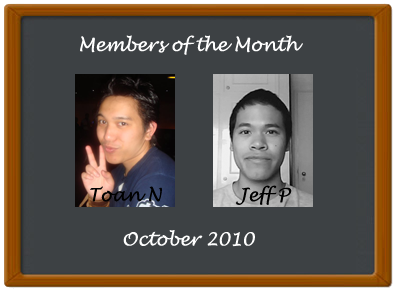 The Members of the Month October are:
– Toan Nguyen
– Jeff Pui
We planned to select two Tung Chung regulars to be MOTM this month, but as we only have Tung Chung on 2 Sundays, it made no sense. This month's member of the month has been selected from our Saturday's regulars.
Well kind of. Calling these two guys regulars would be an understatement.
These two guys and Joe Leddy and Ardison Garcia were there on our first Saturday game when we had 6 players showing up. All four of them contributed a lot during the early stages of CFN. They were the stars of CFN Saturdays
Unfortunately, Joe and Ardison both left Hong Kong before they would be selected to become MOTM. But, luckily Toan and Jeff are in Hong Kong and still play with us at least once a week. Jeff recently started University, but still plans a few hours per week to play with us. As for Toan, when we first met, he planned to leave HK this month. I am glad that he extended his stay in Hong Kong, otherwise CFN wouldn't have had the chance to honor him with this title. As MOTM October, they will play our weekend games (Saturday and Sunday) for free.